Fancy the sea? From the train station "Genova Piazza Principe" just a few steps away is the imposing port, which makes the Ligurian metropolis one of the most important in Italy. The historical richness, the cultural diversity and the maritime flair as a backdrop make Genoa an unforgettable experience.
Genoa is also the ideal starting point for discovering the Ligurian coast, such as the famous Cinque Terre National Park.
Take a comfortable overnight trip there!
From 11.12.2022 you can board the ÖBB Nightjet in the evening in Vienna, Salzburg or Munich, for example, and arrive in Genoa the next morning after a comfortable, stress-free journey.
Take a comfortable overnight ride on the ÖBB Nightjet in the seat car, couchette or sleeper car to Genoa.
No connections found. Please try another departure country.
* Minimum price for an ÖBB Sparschiene ticket per person and direction, in a second class seating carriage, incl. seat reservation, offer only valid for a certain train and subject to ticket allotment, can be booked max. 6 months (180 days) before departure. For couchette or sleeper car tickets as well as car and motorcycle transport (if available), a surcharge applies. No discounts. Tickets cannot be exchanged, cancelled or refunded. The ÖBB Personenverkehr AG's terms and conditions apply. Tickets and information are available at nightjet.com, from ÖBB sales partners, at any ÖBB ticket counter and from the ÖBB customer service at 0043 5 1717.
The gateway to the Mediterranean
Tourists should take plenty of time to explore Genoa, as its history has captivated all those who have visited. The city centre is still home to some of Europe's most impressive Renaissance buildings and palaces, and other buildings even date back to the Middle Ages. Those who wander through the pedestrian-friendly old town, with its winding alleyways leading to the palazzi, cathedrals and buildings decked with elaborate frescoes and reliefs, will embark on a magical journey through time. The city's most famous son, known as "La Superba" - "The Proud One", remains the explorer Christopher Columbus, whose childhood home is open to visitors.
The aquarium is also not to be missed; "Porto Antico", completely redesigned by star architect Renzo Piano in 1992, is one of the largest and most beautiful aquariums in Europe. Its 3000m2 interior and many tanks are home to over 12,000 species of animals and plants from all over the world. However, the best view can be found from the "La Lanterna" lighthouse: the symbol of Genoa. At 77 metres high, it towers over all the lighthouses on the Mediterranean.
The capital of Liguria also has plenty to offer in terms of food: both the flat bread "focaccia" and "pesto", made from basil, olive oil, cheese, and pine nuts, originated here. And on an extended walk along the coast, visitors have the opportunity to indulge in local and freshly caught seafood specialities at every turn.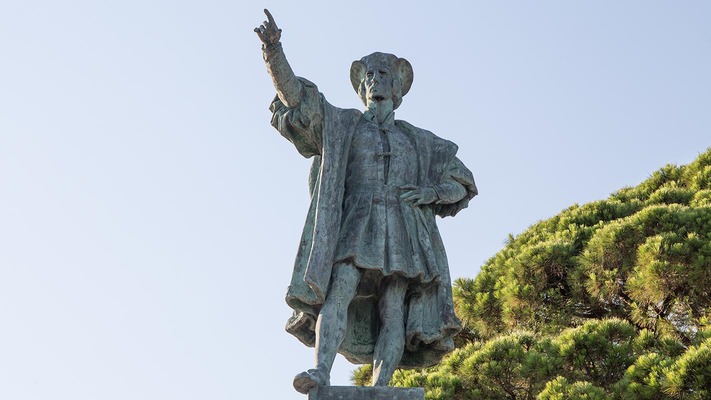 Christopher Columbus statue in Genoa