Everybody should have been to Salzburg at least once. And not only for the famous Salzburg Festival in summer. Art and culture can be found here at any time of the year and always within walking distance. Why not combine a trip to Rome, Milan or Venice with a visit to Salzburg! The Nightjet will take you easily to the first baroque building north of the Alps, the famous Salzburg Cathedral.
No connections found. Please try another departure country.
* Minimum price for an ÖBB Sparschiene ticket per person and direction, in a second class seating carriage (for Vienna - Kosice and Zurich - Prague in a 3-bed sleeper coach), incl. seat reservation, offer only valid for a certain train and subject to ticket allotment, can be booked max. 6 months (180 days) before departure. For couchette or sleeper car tickets as well as car and motorcycle transport (if available), a surcharge applies. No discounts. Tickets cannot be exchanged, cancelled or refunded. The ÖBB Personenverkehr AG's terms and conditions apply. Tickets and information are available at nightjet.com, from ÖBB sales partners, at any ÖBB ticket counter and from the ÖBB customer service at 0043 5 1717.
The city's landmark towers high above town with its baroque towers and domes: Hohensalzburg Fortress is one of the few completely preserved castles in Central Europe; its construction began way back in 1077. Even the funicular that takes visitors up the mountain is already 125 years old which makes it the oldest of its kind in Austria.
After looking at the medieval rooms of the old rulers, it is best to stroll through the historic old town: Baroque Salzburg Cathedral, the Glockenspiel or the marble Residenzbrunnen are just some of the highlights. When in Getreidegasse with its unique signs, however, you should not only visit Mozart's birthplace, but also pay attention to the beautiful house entrances and the dates and names of the former inhabitants on the façades - it's free of charge. The best thing to do now is to get a box of original Salzburg Mozartkugeln as provisions for a hike to the top of the Mönchsberg mountain. After so much old stuff and so much tradition, it is now time for something contemporary: In the Museum of Modern Art you can find just that on the walls and enjoy the wonderful view over the city and the Salzach River.
Those who are now hungry will stroll through one of the manypretty markets in Salzburg: as its name (literally "Green Market") suggests, you will find a lot of fruit and vegetables at Grünmarkt, while the "Schranne" (on Thursdays) offers a bit more hearty, but always regional wares.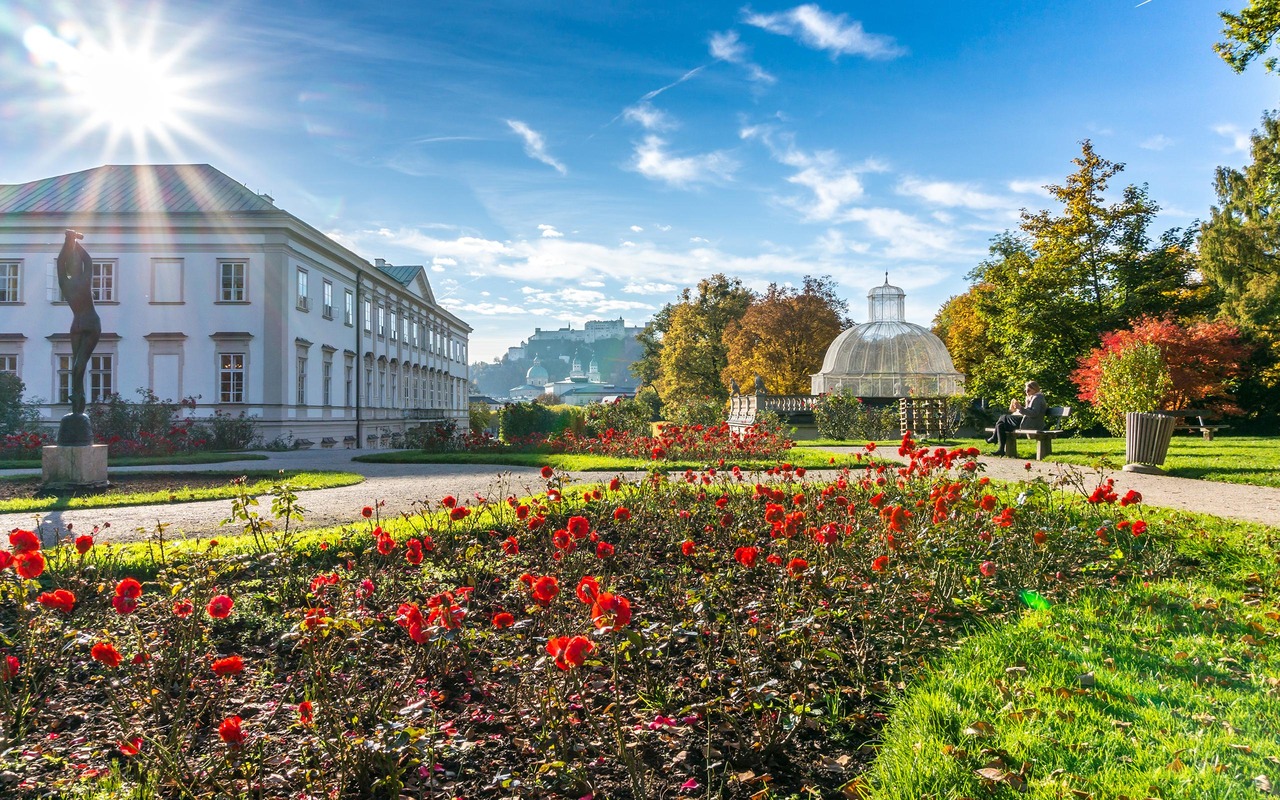 The beautiful Mirabell-garden