Bavarian? Swabian? Or simply Stuttgart? There's so much of Germany to see, even before arriving at Baden-Württemberg's most charming town. On the way there, it's worth building in two interesting stops: Augsburg, one of Germany's oldest cities, is home to the enthralling and famous Puppenkiste marionette museum, and Ulm captivates visitors with its medieval flair and views of the Danube.
Righty ho, or sodele, jetzetle, as they say in Swabia! One thing is obvious straight away to anyone travelling from Bavaria into neighbouring Baden-Württemberg: it's not just the landscape that's hugely diverse - it's the language too. Have you heard the local motto? "We can do anything. Apart from speak "normal" German." But no matter whether you've moved to the area as a "Reigschmeckder" or you're just visiting, the "Stäffelesrutscher" - i.e. the locals - will give you the warmest of welcomes.
There's always something going on in the Kessel, which is German for "cauldron", in reference to the shape of the valley, located in the Keuper Uplands of southwestern Germany. At over 200 metres high, the TV Tower makes it easier to get a good overview of the city, where numerous attractions such as the large, baroque Ludwigsburg Residential Palace complex, the Kunstmuseum, which specialises in modern art, and the Sepulchral Chapel on Württemberg Hill are waiting to be discovered. The last of these was built by King Wilhelm I in 1820, as an eternal symbol of love for his deceased wife Catherine. Nowadays, romantic couples like to kiss here for Instagram. The city library is yet another highlight: this free-standing monolithic structure is impressive on both the outside and inside. But maybe neo-Gothic is more your thing? The Johanneskirche on the Feuersee peninsula is one of the architectural highlights of western Stuttgart. A delightful flea market is held here one Saturday every month.
What's next? Take a nice deep breath! About 600 hectares of Stuttgart's green space is made up of parks that are maintained with an ecological focus. As well as the large "Grüne U", a U shape formed from parks including the Höhenpark Killesberg and the Schlossgarten, these ecological green spaces include the Stadtpark Vaihingen, the Travertinpark in Hallschlag and the Grüner Heiner in Weilimdorf. Or you can relax in the thermal baths and spas at Bad Cannstatt. There's a good reason why the district's name contains "Bad", a reference to its therapeutical spas and thermal baths: Bad Cannstatt has Europe's second-highest discharge of mineral water after Budapest, with a rate of more than 500 litres per second. Which means that, in this cauldron, even the water is worth its weight in gold.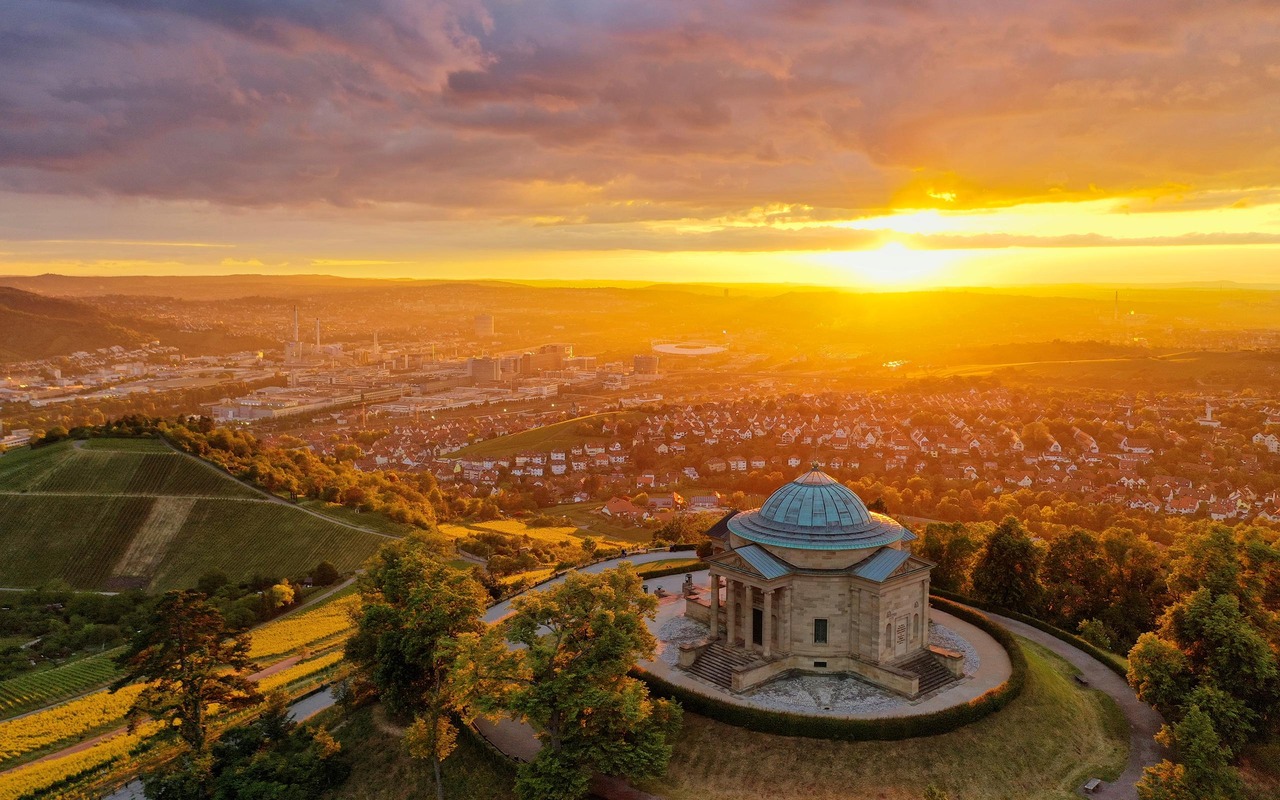 View from Sepulchral Chapel on Württemberg Hill