No other place in the world boasts a density of Renaissance art and architecture to rival Florence's. Modern museums and enchanting gardens also attract visitors to what is perhaps the most beautiful city in Italy. From Vienna, Salzburg or Munich, after a night on board our Nightjet, you will arrive at the central station Santa Maria Novella in the city centre completely relaxed and rested. And that's a good thing, as you've got a packed agenda ahead of you.
No connections found. Please try another departure country.
* Minimum price for an ÖBB Sparschiene ticket per person and direction, in a second class seating carriage, incl. seat reservation, offer only valid for a certain train and subject to ticket allotment, can be booked max. 6 months (180 days) before departure. For couchette or sleeper car tickets as well as car and motorcycle transport (if available), a surcharge applies. No discounts. Tickets cannot be exchanged, cancelled or refunded. The ÖBB Personenverkehr AG's terms and conditions apply. Tickets and information are available at nightjet.com, from ÖBB sales partners, at any ÖBB ticket counter and from the ÖBB customer service at 0043 5 1717.
The tour through the old town (Centro Storico) is best started early in the morning, when most tourists are still sleeping. From the Cathedral Square with its impressive Cathedral of Santa Maria del Fiore, the Romanesque Baptistery and the slender Campanile of Giotto, you should make your way to the secular centre of the city, the beautiful Piazza della Signorina with its fountains, sculptures and historical buildings.
If you don't want to work off all the sights one by one, you'll still get your money's worth at the Centro Storico: The old town is a work of art in itself.
Michelangelo, da Vinci and Boticelli await you in the Uffizi, the Accademia di Belle Arti, the Museo Nazionale del Bargello, the Museo dell' Opera del Duomo or the Palazzo Pitti. But numerous private galleries, workshops and small studios also entice people to come and see the artists at work.
The best place to relax is in one of the many beautiful parks and gardens that the Tuscan metropolis has to offer. After an ascent to Giardino Bardini or Giardini Boboli, you have an absolutely breath-taking view of the city and it is beautifully quiet. Another thing you shouldn't miss if you can help it are the Renaissance palaces, for example, the Palazzo Rucellai and, of course, the Palazzo Medici Riccardi. After all, it is largely thanks to this famous dynasty and its wealth that Florence is one of the most beautiful cities in Italy, if not the world.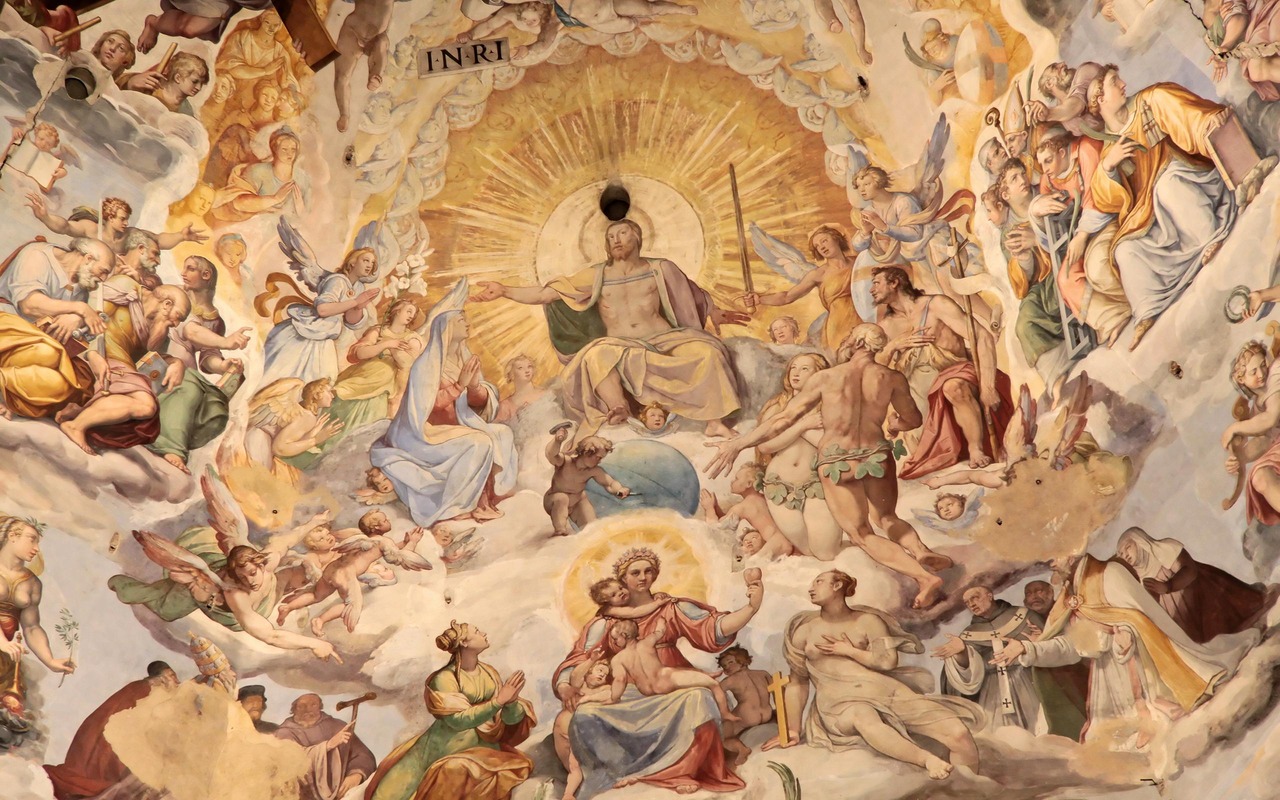 The fresco in the dome of Santa Maria del Fiore