All roads lead to... Linz! Come over night from Paris, Hamburg, Brussels, Amsterdam, Venice or Zurich: Linz is definitely worth a visit!
The image of Linz as an industrial town is a thing of the past: the interplay between the historic old town and the many hip bars and modern architectural highlights, such as the Lentos Museum, make for a richly diverse city on the banks of the Danube. World-famous, and not without reason: Ars Electronica is one of the biggest stages for media art, a display of innovation and a playground for the next generation. This unique festival, which brings together art, technology and society, is not to be missed in the autumn, but Donauperle also offers the perfect programme for every taste throughout the whole year.
No connections found. Please try another departure country.
* Minimum price for an ÖBB Sparschiene ticket per person and direction, in a second class seating carriage (for Vienna - Kosice and Zurich - Prague in a 3-bed sleeper coach), incl. seat reservation, offer only valid for a certain train and subject to ticket allotment, can be booked max. 6 months (180 days) before departure. For couchette or sleeper car tickets as well as car and motorcycle transport (if available), a surcharge applies. No discounts. Tickets cannot be exchanged, cancelled or refunded. The ÖBB Personenverkehr AG's terms and conditions apply. Tickets and information are available at nightjet.com, from ÖBB sales partners, at any ÖBB ticket counter and from the ÖBB customer service at 0043 5 1717.
About half of Linz is green space. Parks, nature reserves and extensive forest areas characterise the cityscape. Locals and guests alike reap the benefits: You can run, walk, cycle or inline skate along the banks of the river to the refreshing Pleschinger See on the Donauradweg. For those wanting a relaxing stroll, we can recommend walks around the city: there's a particularly beautiful route leading up to the Pöstlingberg, where you can find a viewing platform, a Baroque pilgrimage church, a zoo and of course... the famous Linz Grottenbahn.
Want even more? Visitors can even get a true beach experience just a few minutes from the centre, at Sandburg. With a view of the water, a cool drink in your hand and live music playing, it's a place where you can enjoy the mild evenings to the very fullest. You can also find culture and nature at Linz Castle Museum, which has extensive permanent exhibitions inside its historic walls. From over 10,000 m² of exhibition space, visitors a comprehensive insight into the natural, cultural and artistic history of Upper Austria, from past to present. There are also special exhibitions that shine a light on current international and contemporary topics. Just as rewarding is the park around Linz Castle. Even just a short trip here at sunset feels like a little holiday from everyday life.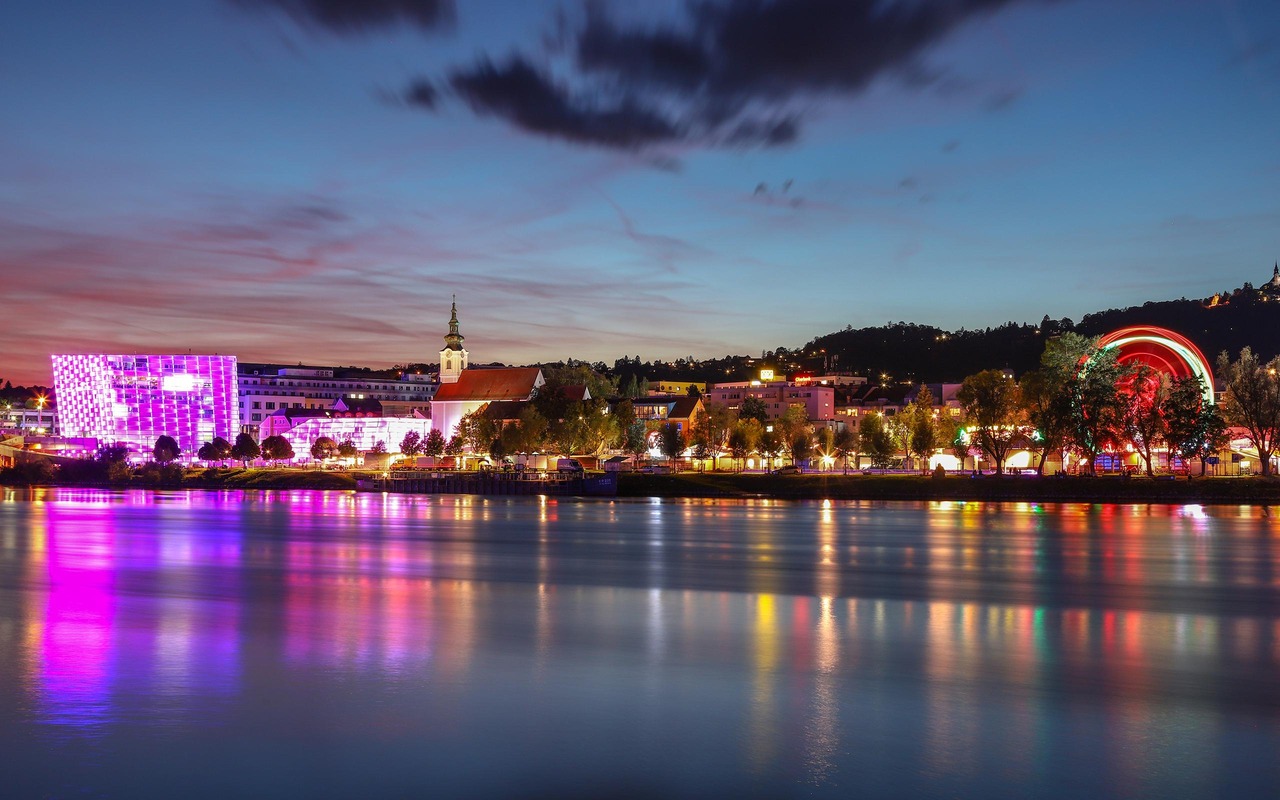 Linz at night