From high alpine via ferrata to baroque ceiling paintings. In Innsbruck you can get everything under a single (Tyrolean) roof. Those who find the land too flat in the far north of Germany can simply hop onto a Nightjet train in Hamburg or Düsseldorf and the next morning wake up to views of an Alpine panorama in the middle of Innsbruck.
Can you hear the mountains calling you? Or the old town? The city with the bridge crossing the River Inn – hence its name - is nestled between two mountain ranges to the north and south. This makes it the perfect destination for all sports enthusiasts. From skiing, snowboarding, cross-country skiing, mountain biking, climbing and hiking - depending on the season, Innsbruck simply offers everything. The special thing about it is that, after feeling the adrenaline rushing through your veins, you get a good dose of art and culture during the periods of rest.
And so, the morning sun provides the best time to be dazzled by the approx. 3,000 fire-gilded copper shingles on the famous Golden Roof in the old town. The oriel of the former residence of the Tyrolean sovereigns served as a royal vantage point. Emperor Maximilian I, for instance, used to watch knights' tournaments from here. Only a few steps away are the historical town hall with its town tower, Hofburg palace, built according to plans by Empress Maria Theresa, and the Hofkirche. The tomb of the omnipresent Emperor Maximilian is surrounded by 28 bronze mourners, the famous Schwarzen Mander (literally "Black Men"). The idea for this magnificent monument originates from the emperor himself and women can also be found among the black men.
After a visit to Umbras Castle, you then have the chance to admire a bit of modern architecture outside the city centre, where it contrasts the rugged peaks of the Northern Chain. The striking ski jumping hill of Bergisel and the stations of the Hungerburgbahn were both planned by star architect Zaha Hadid.
A last look at the mountains from your Nightjet compartment is worthwhile - you will miss them.
Detailed information about the Tyrolean regions for your summer or winter holidays you´ll find at www.tyrol.com.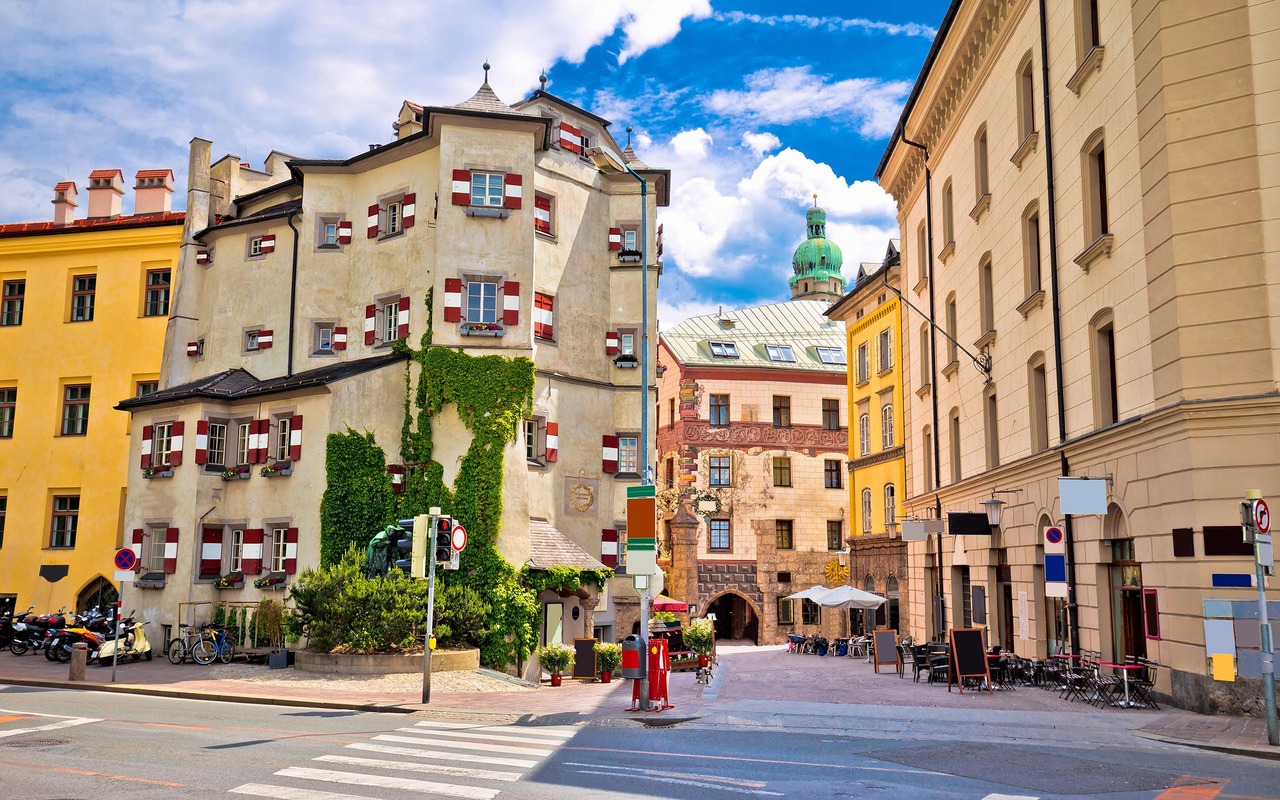 View of the old town of Innsbruck