The Italian way of life is closer than you think: The city on the foothills of the Alps has more to offer than just fashion and the Milan Cathedral. If you have had enough of Vienna's low stratus, Munich's Oktoberfest or the Salzburg "string rain", board a Nightjet and find yourself in the middle of the Italian lifestyle the next morning. After a carefree journey on the Nightjet, you can continue to enjoy the sweetness of doing nothing and the Italian way of life as soon as you step off at the "Milano Lambrate" station (subway M2) and the "Milano Porta Garibaldi" central station (subway M2 and M5).
The heart of the city is home to three of its most important sights: the imposing white Milan Cathedral on Piazza del Duomo is a must-see. Its construction began in the Middle Ages, but it was not finished until the 1960s - but at least it is also the third largest church in the world in terms of surface area. Just around the corner you will find the Galleria Vittorio Emanuele II, a 19th century shopping mall named after the King of Italy. In addition to stucco, frescoes and marble, it also has the elegance of Prada, Armani, Versace & Co. to offer.
Here you can dress up for a festive get-together, if you plan to visit the next sightseeing site in style: The world-famous Milan Scala is only a few minutes' walk from the gallery. It is one of the most important opera houses in the world. During a coffee break you can watch the chic opera-goers and enjoy the atmosphere.
After visiting these celebrities, you can now turn to the courtyards. For example, those in the Brera designer district with its bars, artists' boutiques and restaurants. The inner courtyard of the Baroque Palazzo di Brera is guaranteed, despite a bronze statue of Napoleon, to create Italian flair. In addition, this part of the city is home to the Academy of Fine Arts, the Brera Art Gallery and the Botanical Gardens, where you can relax a little.
Likewise worth a visit is the Navigli district, named after medieval canals. With its many bridges, it feels a bit like Venice which, by the way, can be reached in the same stress-free manner as Milan on board a Nightjet.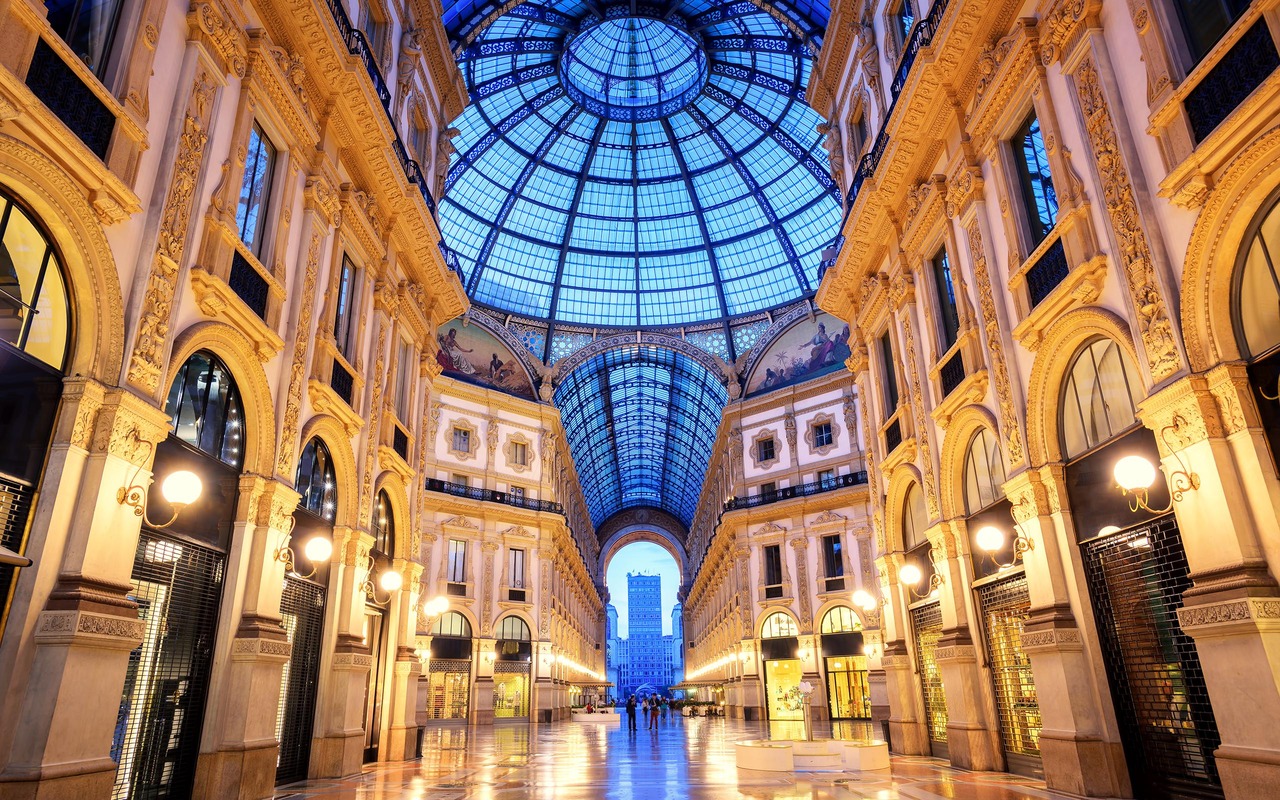 The beautiful Galleria Vittorio Emanuele II