La Dotta, the scholar, is this northern Italian city's nickname. After all, in the lively student city of Bologna one can find the probably oldest university in the western world. Lots of luxury cars too, by the way. Our Nightjet trains take you to Bologna in an environmentally friendly and stress-free way: From Vienna or Salzburg, you can get there in just one night.
No connections found. Please try another departure country.
* Minimum price for an ÖBB Sparschiene ticket per person and direction, in a second class seating carriage, incl. seat reservation, offer only valid for a certain train and subject to ticket allotment, can be booked max. 6 months (180 days) before departure. For couchette or sleeper car tickets as well as car and motorcycle transport (if available), a surcharge applies. No discounts. Tickets cannot be exchanged, cancelled or refunded. The ÖBB Personenverkehr AG's terms and conditions apply. Tickets and information are available at nightjet.com, from ÖBB sales partners, at any ÖBB ticket counter and from the ÖBB customer service at 0043 5 1717.
Car enthusiasts will get their money's worth, as there are numerous museums in and around Bologna where you can find vehicles from Ducati, Maserati, Lamborghini or Ferrari. The labyrinthine old town with its endless arcades - stretching 40 kilometres in total - dates back to the time of the Renaissance rulers.
Protected from the wind and the weather, this is where you will find boutiques, grocery stores and bookshops, which mainly owe their existence to Bologna's numerous students. The heart of the city is formed by the Basilica di San Petronio, the fifth largest Gothic church in the world, and the Fountain of Neptune. The trident of the god of the sea may look familiar to you - it forms the Maserati logo.

If you want to see leaning towers, you don't have to travel to Pisa. Bologna has some of those too. In the Middle Ages, there were countless (residential) towers in the city, and seventeen have survived - albeit somewhat warped, such as the Garisenda or the Asinelli Tower, whose viewing platform can be reached by way of 500 steps. From there you cannot only enjoy a magnificent view of the city, but also see the dolce vita on the piazza below.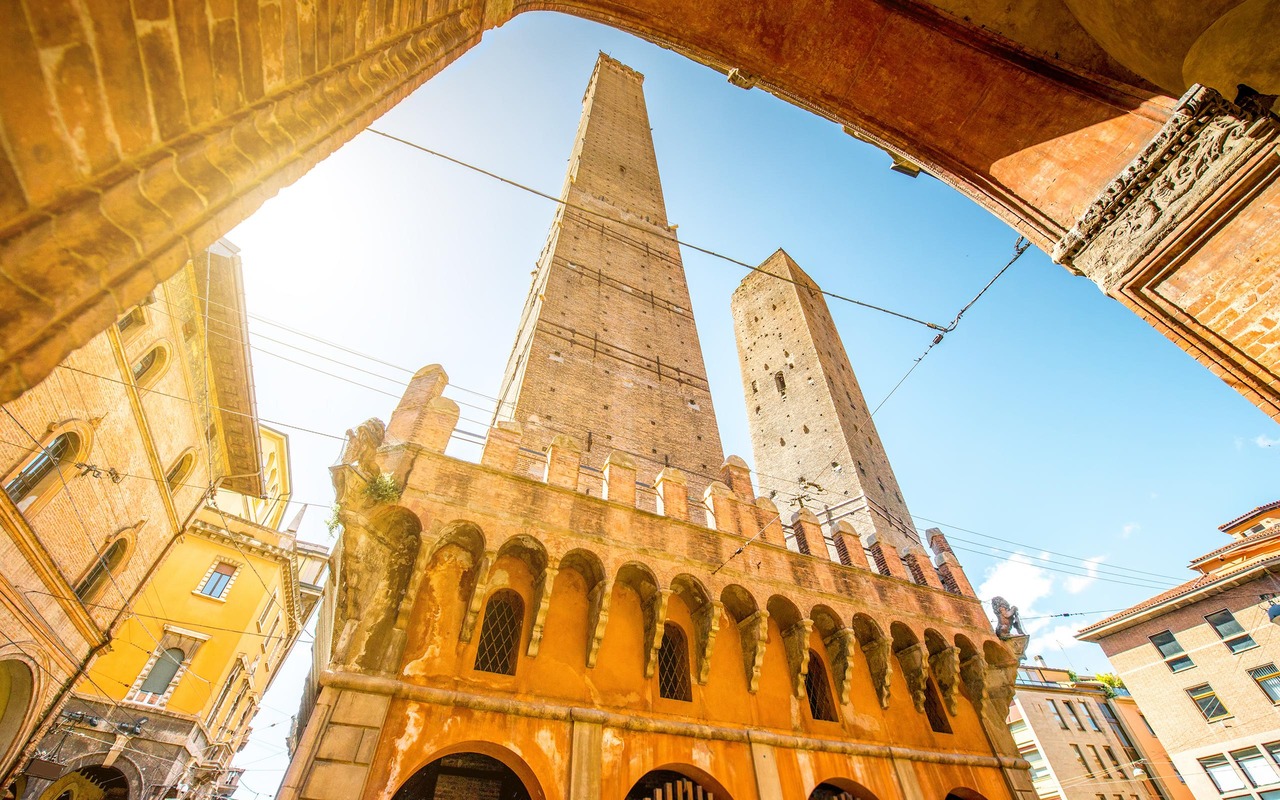 The leaning towers of Bologna, Garisenda and Asinelli