A new travel experience
To make travelling overnight even more pleasant, we have ordered 33 new Nightjets. In addition to more privacy and improved levels of comfort, you can also look forward to even more individuality. The first Nightjets with the new design are on track for departure starting in 2023 on routes to Italy. With speeds of up to 230 km/h, the new trains will take you to many European cities overnight in a climate-friendly way.
Now even more comfortable
The new generation of seven-carriage Nightjets have two seating cars, three couchettes and two sleeping cars. Ultra-modern design meets even greater comfort and even more space.
Travelling is even more comfortable in the sleeping car as all compartments are fitted with their own toilet and shower facilities. A comfortable seating area allows relaxed working, reading or eating during the journey. Fixed beds in the sleeping car and in the new 4-seater couchette increase your sleeping comfort and ensure a relaxed arrival at your destination. The new Mini Cabins for solo travelers are compact and have everything you need for an undisturbed and pleasant journey. The multi-function wagon will provide new, improved transport options in the future: bicycle storage spaces for all cycling enthusiasts as well as more space for luggage as well as skiing and snowboard equipment. 
For passengers with restricted mobility, every new Nightjet will also feature a modern couchette compartment with disabled access and a disabled toilet that can be reached with low-floor boarding. 
Technical innovations & features
You can look forward to a variety of technical innovations. A new feature is free on-board Wi-Fi. Those who want to keep amused until they reach their destination can surf free of charge on the ÖBB Railnet onboard portal and use it to stream as well as read a range of digital newspapers and magazines. 
A modern passenger information system keeps you up to date with the latest travel information. Alongside conventional plug sockets, the new Nightjet also provides USB charging options and an inductive charging station for a wide range of electronic devices. New window panes that enable better reception improve network function and provide a more stable connection for mobile phones. Compartments also feature a control panel with various comfort features, such as light control and call for service staff on board. In addition, the compartments are fitted with an electronic access system using NFC cards and all carriages have video surveillance to further improve safety.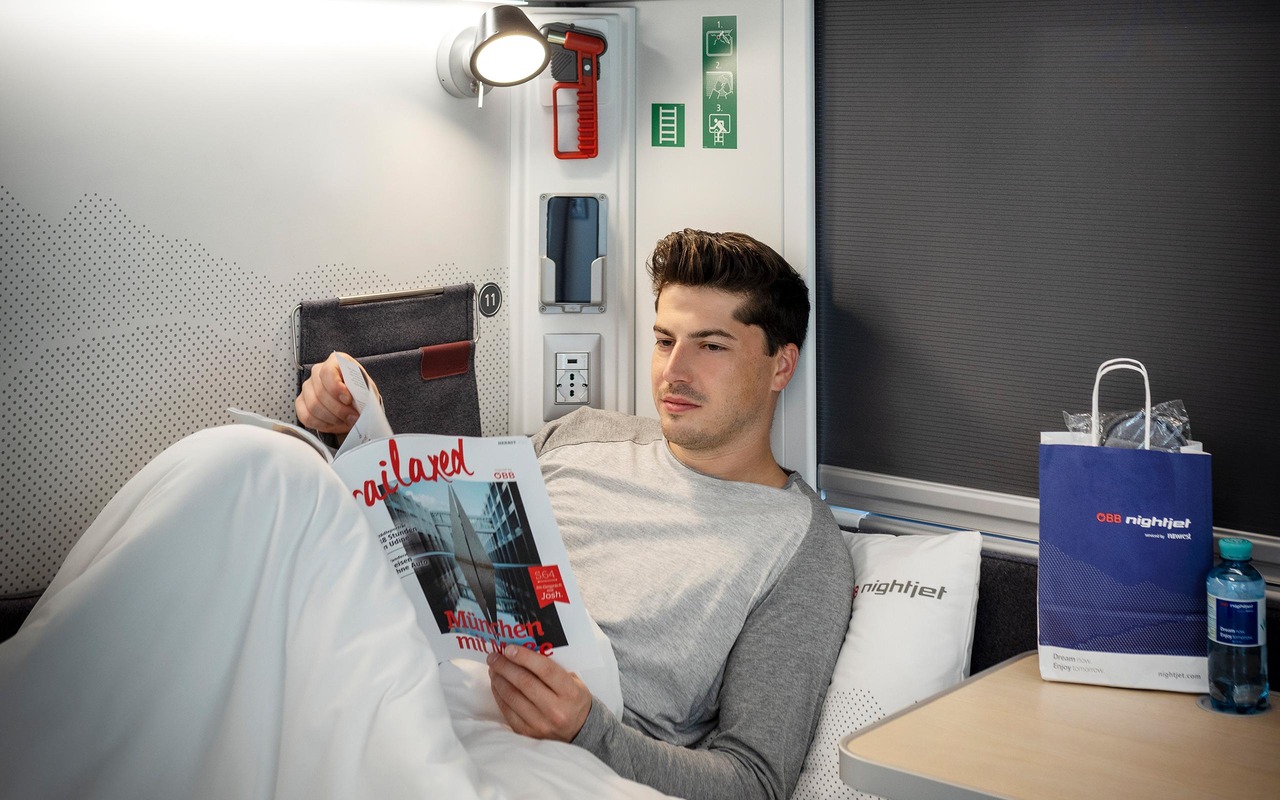 The new sleeper cabin design
Take a 360° look inside the new sleeping car