One of the most important art fairs in the world, almost 40 museums and countless galleries. The small town at the border triangle deserves its reputation as the art metropolis of Switzerland. If you're tired of the rough sea air, go to bed on a Nightjet train in Amsterdam, Hamburg or Berlin and arrive well rested in the middle of idyllic Basel the next morning.
Various sightseeing tours start directly from the train station and well-signposted lead you through the city and to its most important sights. Except if your goal has been to take in the various art offerings in the first place. For its particularly art lovers come to Art Basel in the early summer and throughout the year in the numerous galleries and countless art museums such as the Kunsthalle, the Kunstmuseum, the Fondation Beyeler or the Museum Jean Tinguely, the works of world-famous artists can be admired.
A walk through Basel's city centre is always worth your while, of course: While your gaze will fall on buildings designed by renowned contemporary architects and buildings from the 15th century in the historic old town, you fortunately don't have to pay any attention to the traffic. The city centre has been car-free for a few years now, only the characteristic green trams are allowed to run here. In addition, you should not forget to marvel at the Basel Minster made of red sandstone and coloured bricks.

At the market square you should visit the imposing town hall and stock up on fruit and vegetables for a picnic on the banks of the Rhine: In the summer months, people party and enjoy a drink or two on the banks of the Rhine, or let themselves drift down the river a bit – yes, you can absolutely bathe in the Rhine. The best way to do this is to get yourself a Wickelfisch (literally "Wrapped Fish") which is what they call the waterproof bags in which you take along your clothes when swimming in the Rhine. In the process, you can also pass under another one of the city's monuments: the Mittlere Brücke was opened in 1226 and is one of the oldest Rhine bridges between Lake Constance and the North Sea.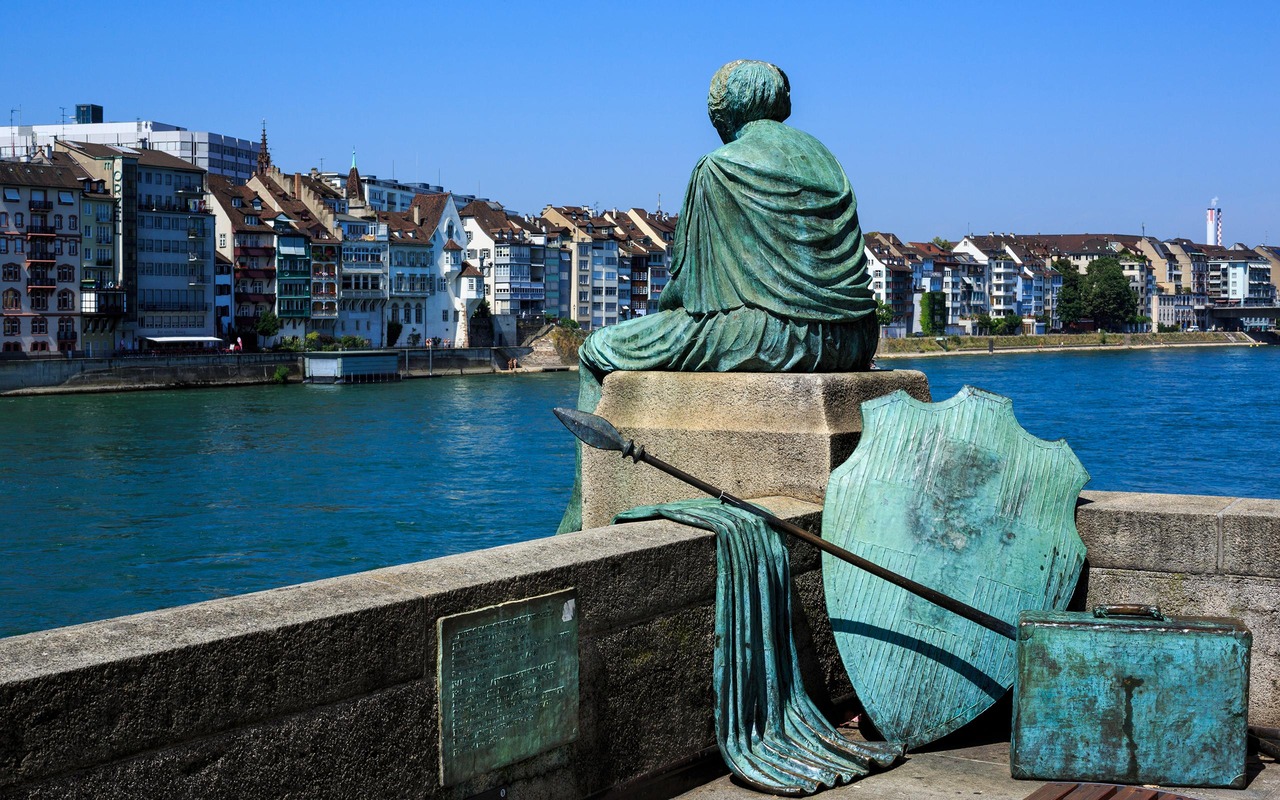 Helvetia monument on the banks of the Rhine