You can smell the sea, the sun is shining, seagulls are screeching, the gelati is melting and people come out in the evening to stroll and dine. Nothing reminds us of our carefree childhood days more than a holiday in Italy. This special holiday feeling can now be relived: For the summer of 2024 only, there will be a seasonal Nightjet connection to the central Adriatic coast. Construction work during this time on the route to Florence will block all onward travel. So why not make the best of the situation and head to the sea to escape the heat? Therefore, in the period from 10 June to 9 September, you will be able to get as far as Ancona along the Italian Adriatic coast. This way you can visit the holiday resorts of Rimini, Riccione and Cattolica.
Long, fine sandy beaches, clear water and breathtaking cliffs are what characterise the region - but before unpacking your swimsuit, we recommend stopping at the terminus in Ancona. Due to its geographical position - resembling an elbow - the port city offers something unique in all of Italy: Here you can watch both the sunrise and the sunset by the sea. Other views on the Riviera del Conero are also sure to be a delight: Watching over Ancona is the Cathedral of San Ciriaco, one of the most important medieval churches in the country, built on the foundations of a Doric temple. And in the centre - alongside elegant boutiques and restaurants - is one of Italy's most famous archaeology museums: Europe's only tactile museum, offering accessible art enjoyment for all. Also recommended is a short walk up to the Passetto. Once there, you will be rewarded with a breathtaking view of the beaches below.
Welcome to the Adriatic Sea!
Talking of beaches: Rimini beach is certainly one of the most popular destinations in the Middle Adriatic. You can find absolutely everything here that makes a holiday in Italy so special - even at night. Night owls will also get their money's worth along the beach promenade and in the many pubs in the city centre. An insider tip: North of the Ponte di Tiberio is the medieval quarter "Borgo San Giuliano": The famous filmmaker Federico Fellini grew up in this former fishing village.
You can also reach the somewhat more tranquil Riccione in comfortable and climate-friendly fashion. Water lovers won't be disappointed, with several aquatic and theme parks waiting for young and old alike. The newly opened "Oltremare" is home to the largest dolphin lagoon in Europe. Cattolica is the southernmost seaside resort on the Adriatic Riviera of Emilia Romagna, about twenty kilometres from Rimini, and an oasis of pleasure: The theatre and "Arena della Regina" are always worth a visit - especially in summer because of the many open-air events and concerts. You can relax during the day on the flat, family-friendly house beach, with an extended nap in the shade.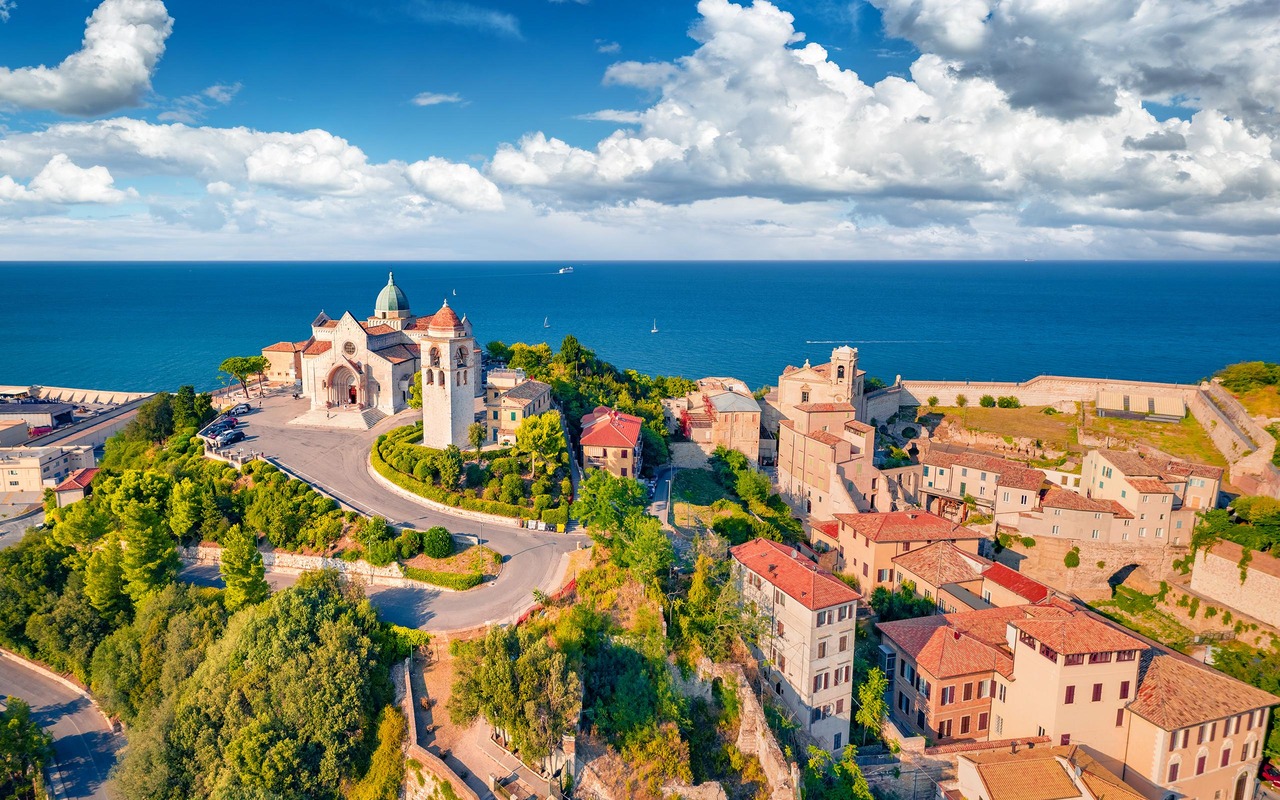 Cattedrale di San Ciriaco